Rotech Subsea's Global Gains
June 7, 2021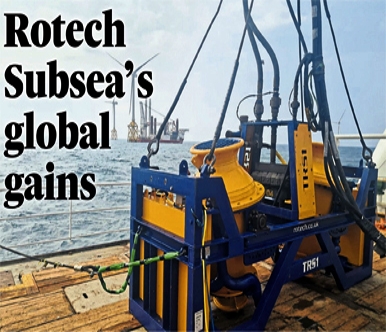 On the back of a stellar 2019, last year was shaping up to be a record one for Rotech Subsea. The company was poised to enter new markets, as its range of controlled flow excavation (CFE) suspended jet trenching tools became established as the go-to choice for IRM and trenching scopes for the energy sector.
Weekly, the Aberdeen based company – which designs , builds and operates its second generation RS range of non-contact trenching and excavation tools – found itself mobilising and servicing projects as far afield as the Americas, Asia and Australia, demonstrating its ability to service the globe.
Despite the global pandemic, demand for Rotech Subsea's sector leading suite of subsea tools continued to rise in 2020. As lockdowns were enforced, the team was gearing up to service essential energy projects the world over in what would be its busiest year to date.
EUROPE'S GO-TO IRM AND TRENCHING PARTNER
Rotech Subsea kicked off 2020 by mobilising its TRS1 and TRS1 LD jet trenching tools to complete a major pit cleaning, cable lowering and de-burial scope at the Borssele and Triton Knoll offshore wind farms (OWF).
During Q2 the subsea excavation pioneer completed a critical national infrastructure project at the Liverpool2 Container Terminal. And, by Q3, Rotech Subsea was working at near capacity after mobilising for inter-array and export cable trenching (TRS1) and sandwave clearance (TRS2) scopes at two state owned Taiwan OWFs.
In the same quarter the company mobilised for the North Sea again, on rock placement removal and sandwave clearance scopes while, in late 2020 early 2021, Rotech Subsea completed a significant remedial cable array lowering campaign on the Hornsea OWF.
In a defining year, Rotech Subsea experienced rising demand for its TRS1 and TRS1 LD tools, which have become adopted as the primary trenching method due to their cutting ability, speed and depth of lowering – while also being cheaper and safer compared to other methods.
GLOBAL EXPANSION
Rotech Subsea's pre-eminence in the southern hemisphere was confirmed in late 2020 with the clinching of a major umbilical post trenching scope offshore near Melbourne.
The contract was hugely significant with it being the first time the client – a global leader in offshore project and services delivery–had used a non-contact jetting tool to carry out such a scope.
Having initially ruled out the method (comparing it with older mass flow technology), Rotech Subsea used project data to prove the benefits of using next generation CFE technology. The scope has since been successfully completed, with another contract subsequently won in the country.
"We were delighted to win our first major contract in Australia since emerging from our non-compete period," said director of subsea, Stephen Cochrane.
"As 'Rotech 1.0' we built a reputation in the region based on having the best people and best MFE technology. Now, having cemented our reputation in Europe, we felt it was the right time to begin servicing Asia and beyond with our new, improved CFE suite of tools. In common with Taiwan, our state-of-the-art RS tools were selected over other trenching methods already in the region due to their enhanced capabilities, which provide a safe, non-contact method and trenching speeds more than double that of MFE technology."
Rotech Subsea's presence in Asia shows no signs of abating, with a follow-on sandwave clearance contract and a new project for the same client in Taiwan.
Q3 2021 marked another huge milestone for Rotech Subsea when it clinched its first OWF IRM contract in the US.
"Won on the back of an unrivalled reputation in renewables in Europe, breaking into the Americas with a major player in the subsea cable installation and maintenance sector was a huge coup for us," said Cochrane.
FROM STRENGTH TO STRENGTH
"To say it's been a whirlwind 18 months is an understatement. But Rotech Subsea is not standing still. Enquiries are rolling in from around the globe and the company is on a major recruitment drive to help meet demand."
The imminent launch of its new shallow water TRS3/RS3 jet trenching tool is expected to drive demand further.
Purpose-built for specific regions and clients, with the TRS3, Rotech Subsea has again demonstrated its ability to listen to the market by developing a new ground-breaking tool to deliver greater efficiencies to a growing global client list.
As reported in the Press & Journal 07/06/2021