Rotech Subsea celebrates 500th project as revenue doubles year-on-year
July 3, 2018
Rotech Subsea Ltd. has marked a major milestone by completing its 500th subsea project. The milestone, which the company has racked up since beginning operations under the Rotech Group banner in 1994, was passed after Rotech Subsea mobilised for four major projects in the month of May alone, with two vessels sailing from Aberdeen in the space of just nine days.
The momentous 500th project saw Rotech Subsea mobilise its TRS1-LD controlled flow excavation system to the North Sea on a cable post-trenching scope of work off the coast of Germany for long-term client, Jan De Nul Group.
Speaking about the milestone - which rounded off an impressive financial year for the subsea excavation innovator - Director of Subsea, Stephen Cochrane, said: "Rotech Group has, since its inception nearly 25 years ago, earned a reputation as being a pioneer in the development of cutting-edge controlled flow excavation (CFE). It's a reputation we are proud of and that we continue to build on, operating across the renewables, oil & gas and decommissioning sectors for a growing list of clients.
"We are delighted to have passed the 500th project mark. More than that, this milestone project also contributed to an extremely strong finish to our financial year that has seen revenue double year-on-year against a backdrop of some of the most challenging times in recent memory for these sectors."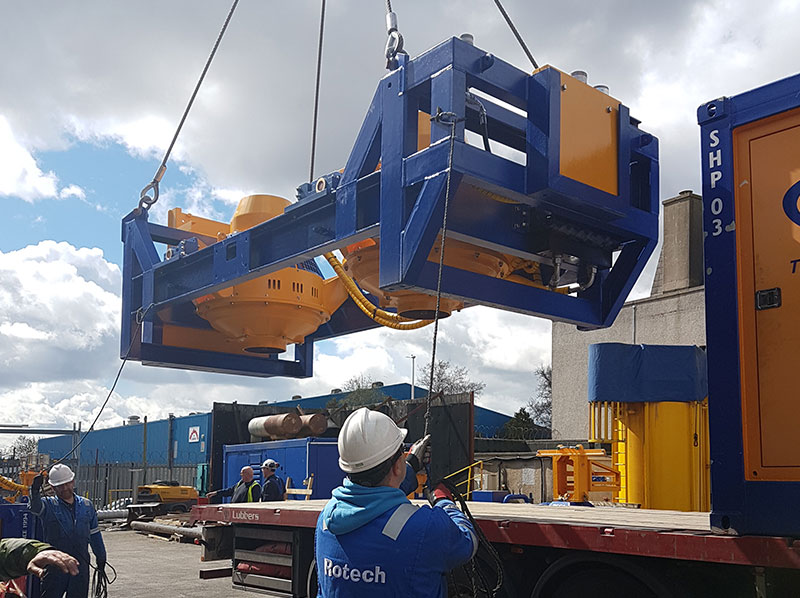 May 2018 saw Rotech Subsea working offshore in Europe with four CFE RS spreads of equipment. This spike in demand for its state of the art trenching and excavation equipment has led to an accelerated order from Rotech Subsea to sister company Rotech Fabrication to build brand new RS spreads of equipment for a major client.
"We have been very satisfied with the market's response to the introduction of our cutting edge RS CFE equipment in late 2015," adds Cochrane. "Demand has been high, driven by a combination of winning new business and retaining key clients after they witnessed first-hand the advantages of our CFE RS equipment over other Mass Flow Excavation tools on the market - not to mention the dedicated service we provide.
"Rotech Group are the only company in the world who design, build and operate non-intrusive trenching & excavation equipment. Having done so since 1994, Rotech Subsea are able to meet and fulfil client expectations time after time, whilst constantly evolving the technology through the Rotech Engineering division."
At time of going to press Rotech Subsea is preparing to mobilise on soon-to-be announced projects in the North Sea, Mexico, Vietnam and the Middle East, marking a strong start to the new financial year.