Rotech delivers Taiwan OWF cable trenching ops
October 3rd, 2023
ROTECH Subsea, the leading provider of subsea jet trenching and excavation tools to the energy industry, has been active in Asia again, delivering cable de-burial, post-lay and remedial trenching operations for a long term client on a wind farm offshore Taiwan. The contract saw Rotech mobilise its TRS1 LD Jet Trencher to execute the scope of works.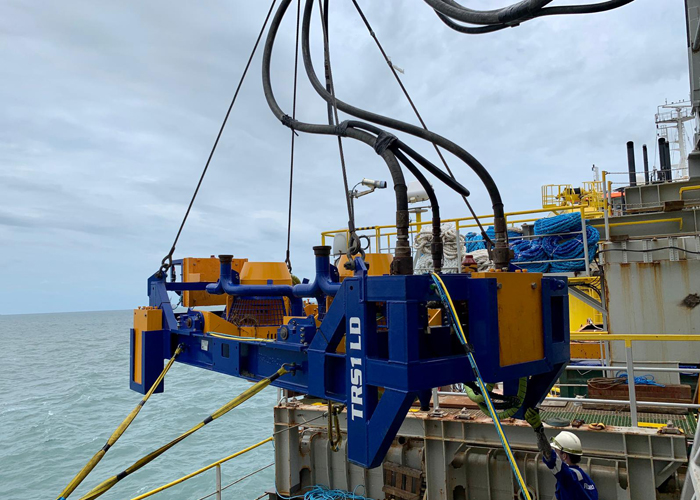 Operating in water depths of 30-55m and currents up to 2 Kts, the project team deployed the TRS1 LD Jet Trencher to complete de-burial of wet stored export cable sections, export cable remedial burial works, inter-array cable remedial burial works, and inter-array cable backfill works. In general sea states of 0.5 – 3m the TRS1 LD was deployed off the starboard side of the vessel using the ship's crane with outriggers and clump weights set up forward and aft of the Jet Trencher and then connected to it with running lines to control tool orientation.
The vessel's DP positioning system was used to move the Jet Trencher along the cable route with tool-fitted USBL transponders providing accurate location data. Deburial progress and trench depth for burial works was monitored and verified real time using a tool-mounted sonar imager. The client confirmed that their specifications were met using separate survey equipment.
Speaking about the latest contract delivered in the country, Rotech Subsea Director of Subsea, Stephen Cochrane, commented:

"This was yet another success for Rotech in Taiwan. The TRS1LD Jet Trencher has a maximum outlet pressure of 140kPa and a max jet flow of 2,600L/s but the de-burial and remedial excavation was completed using minimal power to avoid possible free-span. Despite the fact that the soils in the area were extremely variable with Silty Sands, Clays, Very Dense Gravel with Cobbles all encountered, the Rotech Jet Trencher successfully completed the required operations on schedule, safely and with no issues."
Rotech Subsea's research, development and engineering team has created a suite of 18 sector-leading non-contact CFE, Suspended Jet & Hybrid Jet Trenching tools in-house at its Aberdeen HQ. Withenhanced capabilities, Rotech Subsea's CFE & Hybrid Jet Trenching suite of tools is firmly established as the method of choice for offshore wind farm cable trenching and excavation in Europe and beyond.
Link: as reported in Aberdeen Business News, October 3rd, 2023