ROTECH SUBSEA MAKES WAVES
June 8, 2023
Rotech Subsea has delivered export cable burial operations at an unnamed US offshore wind farm. The Aberdeen based subsea jet trenching and excavation specialist mobilised its TRS1 Controlled Flow Excavation (CFE) tool for the Eastern Seaboard in April 2023 to carry out the export cable burial scope of works for the Europe based offshore energy remediation.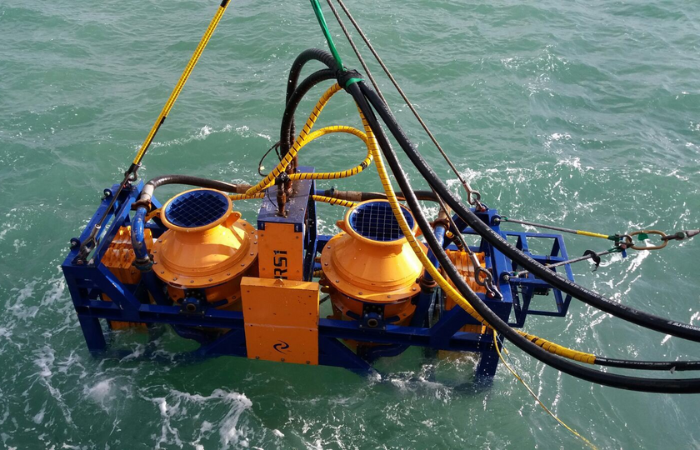 Operating in water depths ranging from 8 - 15 metres, Rotech's TRS1 spread of equipment was deployed by the project team from the aft of a 152 ton utility vessel using the onboard A-Frame, with dyneema ropes utilised to orientate the cutting edge tool. The operation, which comprised the burial of two sections of export cable totalling 280 metres in length in soils ranging from soft sands to low to medium density silt, was deemed a huge success with client burial requirements of 2 metres DoL achieved in just one pass. At a progress rate of 3 metres per minute, trench depths up to 2.8 metres were achieved with trench widths varying between 3.5 metres and 5.5 metres.
Already established as a subsea jet trenching and excavation sector provider in Europe, Asia and the Middle East, Rotech Subsea is experiencing a surge of interest in the US. Following successful deployments in the Caribbean and US, the contract book for the company's tools is filling up for 2023 and 2024 with new equipment being engineered to help meet demand.
Speaking about the outlook for the company in the region, Director of Subsea, Stephen Cochrane, said: "With the US offshore wind sector in its infancy the potential for us in the region is huge. We are already well established there having been hand-picked for a number of export cable trenching contracts by a major client we have worked with long term in Europe and will soon establish a US entity to help us better service the market."
After recently attending Offshore Technology Conference (OTC) in Houston and client meetings in Boston, to showcase its new technology, Rotech Subsea announced it will carry out multiple trenching works in US waters in 2023 and 2024 for a major subsea cable installation player. With further contracts to be announced, 2023 is set to be the company's busiest year on record in the region.
Link: as reported in 4coffshore.com, June 8, 2023, article by Chloe Emanuel