Rotech Subsea completes major North Sea Interconnector Cable De-burial and Post-lay Trenching Works
November 22, 2021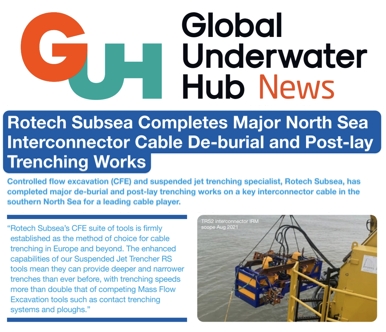 Controlled flow excavation (CFE) and suspended jet trenching specialist, Rotech Subsea, has completed major de-burial and post-lay trenching works on a key interconnector cable in the southern North Sea for a leading cable player.
Rotech Subsea's next generation TRS2 controlled flow excavator was mobilised in Q2, 2021 to complete a scope of work consisting of de-burying damaged cable to allow for an omega loop to be laid then trenched in. The cable was de-buried to a minimum of 3m depth with the newly laid cable trenched to client specification of 2m ToC.
Rotech Subsea - and their more powerful Controlled Flow Excavation (CFE) kit - was called in after older Mass Flow Excavation (MFE) technology had struggled to de-bury the cable on an earlier repair.
Rotech Subsea Director of Subsea, Stephen Cochrane, commented:
"We were delighted to have been selected for this critical interconnector IRM scope. Our TRS2 controlled flow excavator was selected to carry out the scope of work due to its high flow capabilities of 8000 l/s allowing for a large amount of material to be dispersed and also allow for the trench to remain open for sufficient time to pull out the cable. The project was a complete success with the client delighted by the TRS2's technical capabilities.
Rotech Subsea's CFE suite of tools is firmly established as the method of choice for cable trenching in Europe and beyond. The enhanced capabilities of our Suspended Jet Trencher RS tools mean they can provide deeper and narrower trenches than ever before, with trenching speeds more than double that of competing Mass Flow Excavation tools such as contact trenching systems and ploughs."
Rotech Subsea's TRS2 subsea spread of equipment was mobilised on a support vessel, with the job completed in June 2021. The Rotech CFE spread operated in water depths of up to 42m LAT. Soil conditions in the area were sand with the presence of clay in some areas.
The TRS2 successfully de-buried the cable to client specification with one pass at progress rates of 1m/min - 3m/min. Burial of the cable was successfully achieved in two passes at a rate of approximately 4m/min. The exceptional performance capabilities of the TRS2 led to a saving on total project costs for the client.
Rotech Subsea's in-house research, development and engineering team has created a suite of 14 tools that has established Rotech Subsea as market leader in providing on-contact Controlled Flow Excavation (CFE), Suspended Jet Trenching technology and related subsea services. Further game changing enhancements to CFE are due to be unveiled in 2021.
As reported in GUH Magazine 11/2021